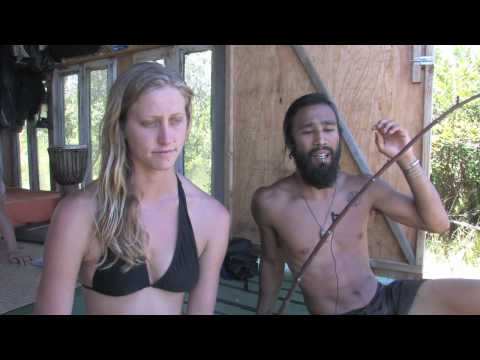 The diversity of creative people that I met on the Big Island of Hawaii really astounded me!  These cats from the band Medicine for the People were absolutely no exception–vivacious, visionary, and authentic.  They have merged their music into a nonprofit organization and use that forum to take on humanitarian causes and interesting projects–like Cornstalk 2010 Festival in the cornfields of Dunnel, Minnesota on August 6 & 7 2010.
Cornstalk is our opportunity to converge visionaries, artists, and leaders in communities abroad for two days of educational music and movement.  They're even hot on Winona LaDuke's trail (LaDuke is an internationally renowned activist working on issues of sustainable development, renewable energy and food systems) and are working on manifesting her confirmation for Saturday night.  Rock it, Winona!
Cornstalk 2010 is a free event this year to the public – thanks to a grant by the Prairie Lakes Regional Arts Council.
The music lineup includes local and national acts:
Fiel – Galveston, TX
Nuestro – Portland, OR
SaraTone and the Earth Tribe Gospel – Cascadia, OR
Kayt Pearl – Sedona, AZ
Medicine for the People
And more…
The MC:
See/Cristian Ellauri is a theatre making, poet, MC, street theatre artist, child entertainer of the highest order! — www.blessitup.com
Hoop and dance performances by:
Gia Rose Strada
Currently, on the site of Cornstalk, they have established the garden, the composting toilets, and are building the stage.
They are hoping to fuse their crops this year with other organic farms in Minnesota or the midwest that would like to donate to the cause.
If any of you are linked to any Minnesota farms – please shoot them the info – they'd love help with crops this year.
What you can do to help Cornstalk 2010 Festival:
COOKS NEEDED!  They're looking for a handful of people to help put together a menu and prep three meals for the event.  There is a budget for a cook, so let them know if this interests you!
VENDORS:  do you have creations you'd like to share, sell, offer to our Cornstalk community?  please let them know if you need a table and/or space to offer it up!
This is a great opportunity to show your creations.
INSTALLMENTS:  creative installments?  mandalas, labyrinth, alters?
MATERIALS:  chairs and folding tables!  if you got 'em, bring 'em.
PR:  TELL EVERYONE YOU KNOW!
SOUND:  they are working with a few different PA production companies that will donate sound systems, but they're looking for more options.  if you are linked to anyone with pro-equipment please send their info.
TRANSPORATION:  If you are interested in boarding the Portland City Bus (retired) that is heading for Cornstalk on the (tenative dates) 27th of July – please send your reservation that includes name, contact info, and where you are located.  The bus is leaving from Portland, OR.  It will get to Cornstalk in 5 days and leave for Portland again after the festival, but take it's time – up to a week and a half of travel time back to PDX.  If you want to join the ride out here – $40 is the going rate.  But, remember it's not coming back in 5 days to PDX.  Cruiiiiising.
You can check out their website at medicine4thepeople.org and can email the band at nakhobear@gmail.com