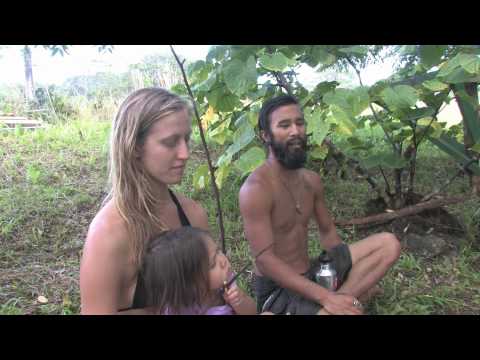 It seems like wherever we went on the Big Island of Hawaii people were talking about a new band called Medicine for the People.  More than one person suggested I interview this band, or at least their singer, Nahko (which means "medicine", by the way).  I had noticed that my interviews were becoming quite women-centric and thought the project could use some masculine energy.  Plus, as a great lover of music, I had not tapped into any creative musicians thus far on this Hawaiian journey.  So off I was to find Nahko, the singer-songwriter frontman for this local favorite.  It was something I couldn't ignore.
I initially brushed them off as another hippy band until I looked a little closer and listened…  What I found was an organized musical group formed around a nonprofit 501C taking their music and messages also to schools and indigenous communities.  This was much more than a band.  This was a group of passionate, intelligent creatives with a project and a message of peace.
Nahko is the singer-songwriter and was not only extremely generous with his time, but invited us to the farm on the Big Island in which he is involved with sustainable living practices.  John was out of commission that day so I asked my new friend, Carolina, to come along to help me watch Little Sky as I filmed.  There is no way I can hold a baby and a camera at the same time (and get anything productive done).
I had met Carolina at a Hilo Sustainability Forum a week prior.  We bonded over our common Latina roots in a land where the darker-skinned people were Polynesian.  From across the rooms our eyes locked and we made fast friends!  She was so awesome to come and help me with the baby.  Plus, we were all interested in checking out the Medicine for the People farm.
The band bounces between Hawaii and Portland, Oregon and we were lucky to catch them on their gorgeous oceanview farm just north of Hilo.  We didn't get to catch up with the whole band, but we did get a few words in from Nahko and Bailey.
Two more videos will be posted later where they discuss their non-profit and their farm.