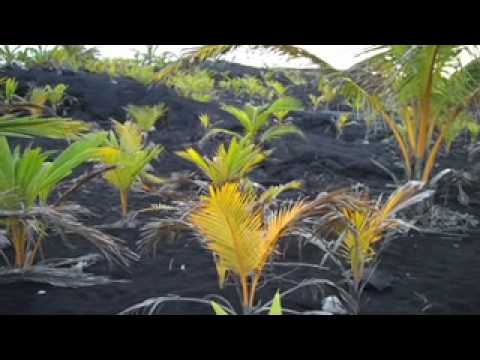 A "Where Spirit Led Us" Entry.
This was the anti-plan.
We jumped in the car yesterday morning from Pahoa on the Big Island of Hawaii and drove south along state highway 137 on the coast.  That's about all we knew.  We were really jazzed to be driving through very old, lush, overgrown tropical rain forest–a pleasant surprise and not quite what we were expecting.  We then arrived at the end of a road.  Before us was a massive lava field, and we drove down to what is left of Kalapana.
In 1990, as I walked across the stage to receive my high school diploma, I was oblivious to the fact that massive amounts of molten lava was running down Kilauea Volcano annihilating this old Hawaiian fishing village and the surrounding area.  Over 180 residential homes and the famous Kalapana Black Sand Beach were subsequently covered in 30-75 feet of lava.  This was the prized black sand beach of the Big Island and an area whose rich history dated back to ancient Hawaiian times.
Some say the Goddess Pele (of the volcano) was angered that the area had been taken over by the National Park System. (another one against "the man")
Today, the newest black sand beach is forming.  It is called Kaimu Beach, which is the phoenix rising out of the ashes of Kalapana.
The locals, in an effort to preserve the heritage of the area, planted thousands of palm trees and other plants along the 3/4 mile trail leading to the beach.  All that is really left of Kalapana is a little hub of businesses at the head of the trail.
The first part of the trail is a desolate lava field which leads to an area of beautiful black soil and fledgling palms.  We could see the steam in the distance as the hot earth spewed into the sea.  The rough ocean is entirely uninviting for any sort of swimming.  But the area's vast lava plains, black rocks and sand, and crashing surf proved to be an appropriate space for reflection and awe.
Like a child, I watch my feet walk in the black sand and listen to the crunching of new soil under my sandals.  I lean down to feel the sand through my fingers–its coarse and oddly light texture is a far cry from the compact, fine, sticky sand of the Texas Gulf Coast with which I am so familiar.
I take time to draw pictures in the sand the way I do every time I'm at the beach, slightly disappointed that my little Flip video camera doesn't understand the colors of black sand and white hand.   (It has a hard time recording the proper color as it oscillates between light and dark.  But, a fantastic little high def video camera for filming on the fly).  I put Little Sky in the sand and watch her explore her surroundings with eyes much newer than mine.
As we walk back to our car the sun was setting beneath the dark, barren landscape.  I read somewhere that the new lava land is slowly sinking, and if it should break off and fall into the ocean, a horrendous tidal wave would ensue.  Let's hope we never see this final dramatic statement from the Goddess Pele.  For now, another successful day of unplanned exploration.  This is where Spirit led us…