A Thanksgiving Pilgrim…In Ecuador?!?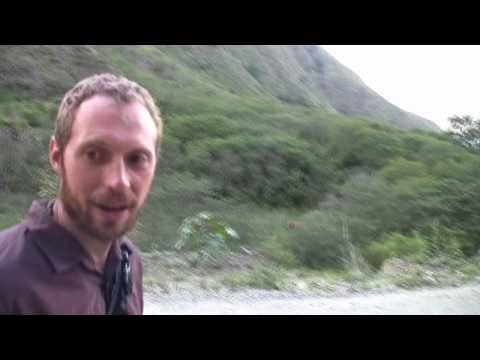 —–
"We are spending Thanksgiving with a pilgrim!" It's a funny thing to say aloud (especially when you're not even in the U.S.A. on this American holiday).  But that truth dawned on me as John and I sat under the stars with Chris Howe on the balcony of our home in Vilcabamba, Ecuador.   I clapped with childish glee as I uttered the phrase.  The guys laughed in agreement.
Chris seemed like just another couchsurfer at first glance.  He contacted us on Couchsurfing.org the day before Thanksgiving looking to make a connection in Vilcabamba.  You can say that his profile generally blew me away!  It linked to his website www.iamwalking.org which told an inspiring story of pilgrimage and prayer through a beautiful film.  I knew we had to meet this guy.  Even before we met Chris in person, I told John that I thought he was heaven sent.  Thank God we are the only people listed in Vilcabamba on Couchsurfing.org (which is odd since we are technically only here on 3 month tourist visas)!  My intuition was spot on as we ended up serendipitously having Chris, his kindness, and his stories all to ourselves for five whole days.
A Walk from L.A. to Brazil
Chris Howe is walking from Los Angeles to Brazil carrying the prayers of people he meets along his journey.  He has taken some breaks, but has been making his walking pilgrimage for two years now.  Now in southern Ecuador he is approaching Peru.  He will walk through Peru in the next couple of weeks until he reaches Pucallpa near the eastern border.  His odyssey will then take him into the jungle of the Amazonian basin as he follows a river to reach his destination, the village of Céu do Mapiá, deep in the rainforest of western Brazil.  (This is how I believe his trek will continue…)
An American Thanksgiving in Vilcabamba
He missed our family's Thanksgiving meal.  I was a bit disappointed, but the fabulous American turkey and carb fest kept us pretty content.  In our tryptophanic stupor, we managed to wobble into town towards the late afternoon to attend the Thanksgiving potluck dinner at Charlito's Restaurant. The party was upbeat as the crowd of festive consuming Americans and friends spilled out onto the cobblestone Ecuadorian road.  It didn't take too long for us to spot Chris and invite this pilgrim to our home.
Elements of a Pilgrimage
Chris's pilgrimage has the distinctions of including a few important elements:  walking, minimalism, and prayer exchange.  He is walking every step of the way.  A short film about his project screened at the Elevate Film Festival (a forum for spiritual and inspiring filmmakers) in Los Angeles in 2008.  After the screening he walked off the stage in a bit of fanfare with a pile of prayers and a long trek to Brazil ahead of him.  If he should hitchhike, fly, or take any other mode of transportation for any reason, he makes sure to backtrack for the walk.  He's flown home for family events but always returns to place he left off.  When we met him he was at his southernmost point to date.  Here is the video from the Elevate Film Festival:
—-
Chris is a model of minimalism with his hardcore version of traveling light–the clothes on his back and a tiny bag.  All I observed was an extra t-shirt, journal, pen, book, toothbrush, toothpaste, and the bundle of slips of papers with handwritten prayers and wishes from the people along the trail.  When we met him he had a penny–one cent, for good luck, I suppose. Aside from some shocking stories of sleeping in some questionable beds (like concrete under bridges and in trash-filled abandoned buildings) his luck has been surprisingly positive.  Yes, he's been robbed a few times.  His stack of prayers might have been stolen, but maybe the prayers from the good people of the world did the robbers some good.  Chris seemed unfazed.
I have no doubt the multitude of prayers and pray-ers surrounding his story have protected him.  He relies on churches and the kindness of strangers for food, drink, shelter, and company.  The Latin American culture is accustomed to pilgrimages that carry out "promesas" or promises.  When God is petitioned and the prayer is answered, it is not uncommon that the person might walk to a special church or location of a famous miracle to give thanks.  Sometimes a network of churches exist to house the pilgrims along their path.  Chris even received a letter from some Benedictine Monks in Northern Mexico, in essence, "certifying" his pilgrimage.
In Latin America the pilgrim is honored and taken care of.  This lends Chris to be blessed with good stories of serendipitous meetings and generous offerings of food and cash. In my home, I guess, the same rules apply.  In our current situation I am not inclined to accept a strange man to sleep in my house.  I have children, equipment, and share the property with a network of friends and landlords who value their privacy.  Despite my reluctance to host couchsurfers (right now, in my current situation) I had no doubts that this situation would be good.
I wrote my own prayer for Chris to take with him.  In exchange, I shuffled through the stack of little papers to find a stranger's prayer to keep for myself.  I chose a prayer that I identified with.  He told me it belonged to a woman in Panama.  I vowed to take good care of it. Chris photographs every slip of paper of hopes and wishes and posts them on his website.  He carries them along his journey, reads them, and prays for them. He says he approaches them as if they were his own prayers and sees them as already answered.  The exchanging of  "oraciones" allows energy to be shared.
It is amazing the bond that can be formed between people in a short amount of time.  Chris spent five days with our family.  We ate together, cooked together, had long talks about life and spirituality, and drank wine.  He helped Rain with her homeschooling and played with Jaya when she got fussy and wanted extra attention.  I received a full day's lesson in Photoshop 101 and he joined me for an interview I was filming.  As we walked home from the meeting I turned the camera on Chris and captured his thoughts on life, walking, and making dreams come true.  The above video is what we filmed that day…
Submit your own prayers or Donate!
Enjoy!  Check out Chris Howe's website:  www.iamwalking.org and submit your own prayer for this beautiful project or donate a little cash to help him on his way!
Let me know what you think of Chris, Thanksgivings in Ecuador, pilgrims, long walks, prayers, couchsurfing, or the power of human connections!